The Charlotte area's only golf magazine

​​​​​​​​​​​​​​​​​​​​​New owners at Providence Country Club - Charlotte, N.C.
​
In early 2016, McConnell Golf purchased Providence Country Club. Located in southeast Charlotte, Providence CC was established in 1989 and has developed a reputation as one of Charlotte's premier family country clubs. PCC's pristine 18-hole, Dan Maples layout, redesigned by Mike Gleason in 2006, measures 7,021 yards and plays to a par of 72. PCC is tied for No. 8 in the Charlotte Business Journal's ranking of the toughest private courses in the Charlotte region.

McConnell Golf said it plans to spend the next few years renovating the PCC golf course using a well-known architect, while also providing numerous other substantial improvements around the club. PCC's extensive amenities include 14 tennis courts and state-of-the-art aquatic facilities, with three swimming pools, and a newly constructed outdoor bar and dining area with a fire pit.
​
Work is now being completed on McConnell Golf's first phase at Providence CC, which totaled $1.3 million. Working with Edifice General Contractors and Redline Architects, the project has included the reversal of locations between the Fitness Center and the Golf Shop. The transition has doubled the size of the Providence CC Fitness Center, while they have also completely renovated the golf shop.

In addition, Providence CC now has a new bag drop location and a new cart staging area, while the entire back lawn of the clubhouse has been re-landscaped. Lastly, they have added an all-new "Providence Playhouse" activity center. The total value of the PCC renovation will exceed $4 million.​​​

Double click here to edit this text.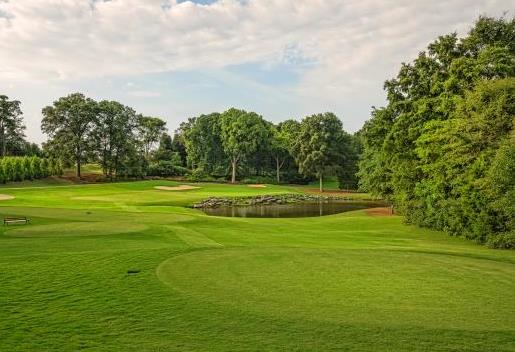 DICK'S Sporting Goods is Official Ticket Partner
for 2018 Wells Fargo Championship

For the second year-- and for the first time in Charlotte -- DICK'S Sporting Goods has partnered with the Wells Fargo Championship as the tournament's official ticket retail outlet.

​​Fans can purchase tickets at any of the 11 DICK'S Sporting Goods locations and the two Golf Galaxy locations in the metro Charlotte area from now until Friday,April 27. This means that fans can save on the $10 shipping and handling fee by purchasing their tickets in-store. Weekly Booklets, Daily Tickets and Good Any One Day tickets will be available in these stores for shoppers.

A portion of ticket sales at these locations will be donated to the DICK'S Sporting Goods Foundation to benefit its Sports Matter initiative. Sports Matter's goal is to raise awareness of and funds for the youth sports funding crisis in America. Sports build character, increase confidence, and motivate kids to stay in school and aim for higher education. Since 2014, DICK'S Sporting Goods, have pledged over $50 million to give children the opportunity to play.

"We are proud to be a partner with DICK'S Sporting Goods again this year," Wells Fargo Championship tournament director Gary Sobba said. "Not only does this provide a convenience for our fans when visiting these stores, what the DICK'S Sporting Goods Foundation does for youth sports is in line with some of our goals-- growing the game of golf and assisting our community youth foundations."

Grounds ticket prices start with the $35 Practice Pack, which consist of three individual daily tickets for Monday through Wednesday. Also popular is the $175 Weekly Ticket Book, which represents a $110 savings from practice pack and individual daily purchases.

To accommodate families, children ages 12 and under are free with a paid adult admission (one child per paying adult). All ticket prices include parking and shuttle fees from tournament authorized lots.

Since the tournament's inception in 2003, the Wells Fargo Championship has not only helped raise awareness for local and regional charitable organizations, it also has contributed over $20 million within the community.

The Wells Fargo Championship will be held at Quail Hollow Club April 30-May 6, 2018.

Patrons can purchase tickets and research Hospitality options by visiting www.WellsFargoChampionship.com or by calling (704) 554-8101.






Professional golfer Bill Haas were involved in a deadly crash Tuesday night after a Ferrari lost control and collided with at least two vehicles, a Los Angeles Police Department West Traffic Division spokesperson told Fox News on Wednesday.

Mark Gibello, the driver of the Ferrari was killed in the rollover crash. Haas, who was a passenger in the luxury car, and a 50-year-old woman in a separate vehicle were injured and taken to the hospital with injuries, the Los Angeles Police Department reported. The woman was hospitalized in serious condition. The crash also involved actor Luke Wilson, who was not seriously injured.

Haas' manager Allen Hobbs said the golfer was treated for a leg injury and non-threating cuts and bruises at a hospital and released. Hobbs added the six-time PGA Tour winner is shaken up and has withdrawn from this week's Genesis Open in Los Angeles.

71-year old Gibello, according to the Golf Channel, is a friends of Bill Harmon, Haas's swing coach, and was "instrumental" in bringing the Walker Cup and the U.S. Open to Los Angeles Country Club. He was hosting Haas and his family during the Genesis Open.