The Charlotte area's only golf magazine
​​​​​​​​​​​​​​​​​​​​​New owners at Providence Country Club - Charlotte, N.C.
​
In early 2016, McConnell Golf purchased Providence Country Club. Located in southeast Charlotte, Providence CC was established in 1989 and has developed a reputation as one of Charlotte's premier family country clubs. PCC's pristine 18-hole, Dan Maples layout, redesigned by Mike Gleason in 2006, measures 7,021 yards and plays to a par of 72. PCC is tied for No. 8 in the Charlotte Business Journal's ranking of the toughest private courses in the Charlotte region.

McConnell Golf said it plans to spend the next few years renovating the PCC golf course using a well-known architect, while also providing numerous other substantial improvements around the club. PCC's extensive amenities include 14 tennis courts and state-of-the-art aquatic facilities, with three swimming pools, and a newly constructed outdoor bar and dining area with a fire pit.
​
Work is now being completed on McConnell Golf's first phase at Providence CC, which totaled $1.3 million. Working with Edifice General Contractors and Redline Architects, the project has included the reversal of locations between the Fitness Center and the Golf Shop. The transition has doubled the size of the Providence CC Fitness Center, while they have also completely renovated the golf shop.

In addition, Providence CC now has a new bag drop location and a new cart staging area, while the entire back lawn of the clubhouse has been re-landscaped. Lastly, they have added an all-new "Providence Playhouse" activity center. The total value of the PCC renovation will exceed $4 million.​
______________________________________________________________________________

Get on 'Board' to speed up the golf game

​​A visit to King & Prince Resort Golf Course on St. Simon's Island has convinced me that there is a way to speed up the game of golf. And it's not the new "running game" as seen on Golf Channel.

​​Director of Golf ​Rick Mattox (right) showed off the new battery-powered Golfboard that can take
​a long ​four or ​five-hour round of golf ​and turn it into just over a 3-hour hour enjoyable
18-holes ​of golf.

I found that the Golfboard was very easy to maneuver, simply by shifting your weight
​in the direction you want to go. With your clubs strapped on the front – big tournament
​bags may not be the best to use with this new invention – each player was able to go directly to
​their ball and be ready to hit. Also with the Golfboard, no fairways are off limits unless wet
​weather forces a change.

With a foursome playing three different ways the clock told the story.
​Times for each:
​1) Riding ​a regular golf cart- 4:12
2)​ Walking - 3:493) ​Using the Golfboard – just 3:06.
Over a full hour ​less than with the regular golf cart! At the King and Prince golf course
​the cost is the same for ​the golf cart or the Golfboard.

By the way, how about a quick nine-holes – total time just one hour and 32 minutes.

I have been looking for methods of speeding up the game without totally changing the way each players plays (fewer practice swings, play ready golf, tee-forward, read the putt once and hit and park carts in proper place for quick access to next tee). The Golfboard may not be the divinity answer to our speed problem, but thanks to Rick Mattox at King & Prince Golf Course, I have at least experienced a great product to improve our game.

​​
​__________________________________________________________________________________________________

Mystical Golf Announces Exceptional Late Spring, Summer Stay-and-Play Packages
Features Play on Three Acclaimed Courses, Villa Accommodations, Numerous Extras


​Mystical Golf – offering "Myrtle Beach's finest 54 holes of golf" on its celebrated Witch, Man-O-War and Wizard courses – announces stay-and-play packages ideal for exceptional vacations to the "Golf Capital of the U.S."

Mystical Golf's trio of courses are consistently recognized by Golf Channel to be among Myrtle Beach's "five best courses" and "best values." The Witch and Man-O-War courses are ranked in the "Top 15 Courses in South Carolina" in Golf Channel's Golf Advisor rater reviews.

Man-O-War's 15th hole ranks among GOLF Magazine's "Five Most Memorable Island Greens"
​alongside No. 17 at TPC Sawgrass, the "Alcatraz" hole at PGA West's Stadium Course and
​Coeur d'Alene Resort's movable, floating putting surface. The Witch is praised by PGA.com
​for presenting one of America's "great ninth holes" and The Wizard has earned 4-1/2 stars from
​Golf Digest.

Through Sept. 6, the three-day Gold Package starts as low as $99 (per person, per day, taxes
​included). It includes three rounds with cart on each of the much-admired Mystical Golf layouts
​(plus one complimentary round), three nights' lodging in well-appointed three-bedroom villa
​(four beds), free iHOP breakfast daily (available 24 hours per day), and a gratis steak dinner at
​Logan's Roadhouse (includes non-alcoholic beverages, taxes).

Over the same time span, the Silver Package begins at $89 (per person, per day, taxes included)
​and features all the components of the Gold Package except the complimentary round, daily breakfast and steak dinner. Both stay-and-plays offer one complimentary golfer for booked groups of 20 or more players.
​
"Simply put, we offer the best stay-and-play packages in the U.S.," says Claude Pardue, President and CEO. "Our three courses continue to draw nothing but raves from our first-time guests, loyal repeat customers returning year after year and the major golf media."
Additional package highlights include two free beers and lunch at the course each day, complimentary daily range balls, instant replay round for cart fee only, and $15 gift card toward a golf shirt. Extra night stays are available at a moderate cost per person.

Mystical Golf's three layouts are highlighted by wonderfully fun elements including the only back-to-back island greens in the game (Man-O-War), a front nine of dramatic holes weaving through secluded swampland teeming with wildlife (The Witch), and a splendid layout reminiscent of Scotland and Ireland's classic courses complete with authentic sod-faced bunkering and castle-style clubhouse (The Wizard).

For Mystical Golf information: www.mysticalgolf.com, 843.282.2977.


____________________________________________________________________________________________________________________​​​​
Edgewater Golf Club- Lancaster, SC
Selected by golfers #2 in South Carolina

You would expect golf courses like Harbour Town, Kiawah Island, Links at Wild Dunes, True Blue and other well know golf clubs to be ranked among the top places to play in South Carolina. However, what a pleasant surprise it was to find Edgewater Golf Club in Lancaster listed as the #2 golf course in SC on the Golf Advisor rakings.

Edgewater, designed by Bruce Brodsky in 2008, was also selected as the 7th best value in the U.S. with a five (5) star rating, and the #12 ranked Pace of Play course to play in the U.S.. Three to three and one-half hour rounds are common at Edgewater.

The Golf Advisor ranking process begins with the ratings and reviews in 2016, features a mix of both great bargains at courses beloved by locals that you may have never heard of, as well as the bucket list stuff played by golfers from around the world.

Edgewater Golf Club, (#10 tee above) located between Lancaster and I-77 off of Hwy 9, features rolling hills framed by towering pines with A1/A4 Bent grass greens and Bermuda fairways, tees and roughs. Selected by the Charlotte Business Journal as one of the toughest courses in the Greater Charlotte area, Director of Operations Aaron Black is quick to point out that they have still provided a pleasant golf experience for all level of golfers with friendly tees for juniors through seniors.

"Our Golf Advisor rating indicates that we have taken the right steps in presenting our golf course to all golfers," stated Black. "We have done that with our golf course challenge, pricing, conditions and friendly service of our staff. We take pride in our customer service, and promise you will not be disappointed in your visit to Edgewater."

Harbour Town in Hilton Head was again the top ranked course on the Golf Advisor poll of South Carolina Courses with Kiawah Island picked #3. Another area golf course, the Donald Ross designed Lancaster Golf Club, a member of the Leroy Springs golf group, was also listed in the Top-25 in SC, coming in at #23.

​​
Double click here to edit this text.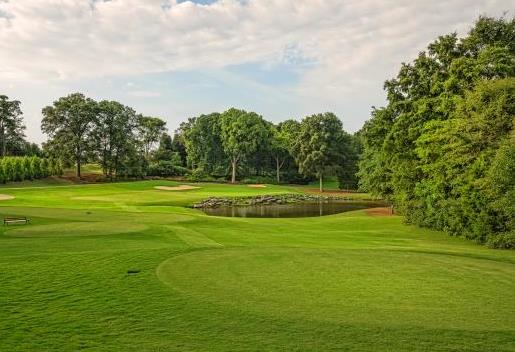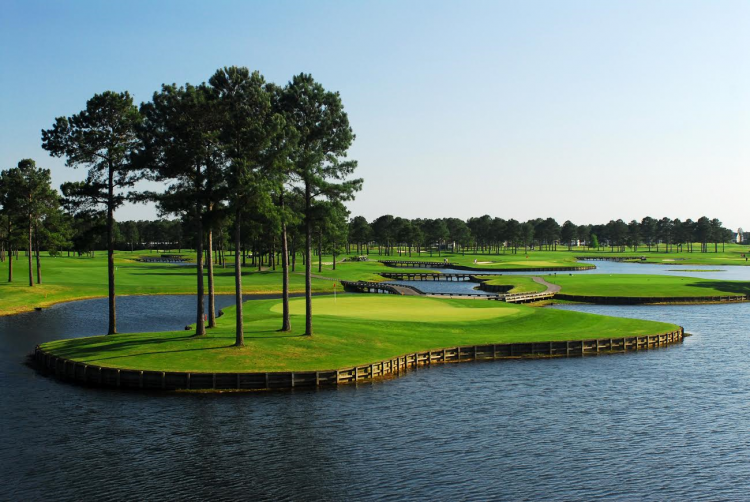 #15 Island green at
​Man-O-War Golf Club.